From the Beginning… A "Brief" History of social housing and Ashley Manor Housing Corporation
From the early 1960's to the late 1970's, Public Housing was developed predominantly by the Ontario Housing Corporation (OHC) and managed by Local Housing Authorities. These developments were often 100% subsidized, which much later would be found to not to be the best approach.
By the late 1970's, the Federal Government, through the Canada Mortgage and Housing Corporation (CMHC), pursued a remarkable vision: that a social housing model, including a mix of people, from different socioeconomic backgrounds, would be far more likely to succeed. Such a project would also be more responsive, to tenants and their neighbouring communities; if, they were managed from within. Children growing up, in such a mixed community, would benefit from the broader social context; which would lead to a greater tolerance of social diversity and inspiring creative ambition in their lives.
Programs were begun, in the early 1980's that provided capital funding, to build non-profit and co-operative housing projects. Additional funds were provided for the life of the mortgage; so, a portion of tenants could pay rent, based on their income. Subsidy payments covered the difference, between what these geared-to-income tenants paid and the actual market value of their unit. This enabled both the tenants and the non-profit housing corporations to reduce their overhead.
Council Members of the Town of Ajax recognized that non-profit housing was a necessity in their growing community. More families wished to raise their children outside a major urban centre and seniors on fixed incomes were equally limited by available options. Having affordable housing managed right in Ajax made the most sense.
The Mayor and Council established the AJAX MUNICIPAL HOUSING CORPORATION (AMHC), in 1982; in order to take advantage of the various housing programs being offered. Owen Ashley, a town councilor active in promoting this type of housing, lent his name to AMHC's first building, "Ashley Manor"; completed in 1984, along with the family Townhouse complex, "Monarch Mews".
A Board of Directors was established to operate this Corporation; who, in turn, hired a Manager and staff, to oversee day-to-day operations. AMHC's Bylaws provide for a Board of Directors, consisting of 7 Members: the Mayor, or his designate, (which must be another Member of Council), and 5 members, from the Ajax community at large. All Board appointments must be approved by Town Council. 
Over the years, many dedicated Board Members have often served, more than their standard 3-year term; committed to the idea of fulfilling a fundamental need in the community. The Corporation has maintained its mandate, to effectively respond to the needs of its tenants. As a property management free from profit motive, rents are kept to the 'low end of market', to cover the bills and provide for future capital work.  
Housing programs flourished in the 1980's; so, that between 1989 and 1992, AMHC built three more projects, for a total of 490 units, at 5 different sites. 171 of these units are dedicated seniors' apartments; with the remainder, for families and singles. Households, in half of all our units, pay market rent; while, the other half pay rent, geared to their income and subsidized by through the government. Roy Hubbard, an active Member of our Board, during this prolific construction period, would lend his name to our newest project, Hubbard Station, more than 17 years later.
In 1993, the construction of new social housing projects came to an abrupt halt; when Paul Martin, then Minister of Finance, for Jean Chretien's Federal Government, slashed the national Affordable Housing Program. AMHC, also, had its budget reduced for Capital Reserve Funds; creating difficulty for Housing Providers, to cover infrastructure maintenance and repair, as buildings aged.
A major funding change occurred, in the late 1990's, that saw regions, throughout Ontario, assume responsibility for funding, the ongoing costs of social housing. In Durham, the local property tax payer now funds rent-geared-to-income subsidies; as well as, extra-operating expenses, built into the original programs. There are approximately 40 social housing providers in Durham, comprising of Municipal non-profits, such as ours; as well as, other groups, sponsored by churches, legions and other organizations. These providers now receive more than $35 million dollars per year, directly from the Region.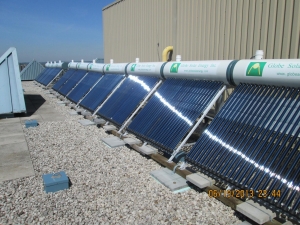 In 2001 Province devolves funding and administration of existing social housing to 47 Municipal Service Managers but keeps responsibility for supportive housing (now with Ministry of Health/LTC and the Ministry of Community and Social Services (MCSS).
In 2009 Social Housing and Retrofit Program (SHRRP); $545 million to extend Canada-Ontario Affordable Housing Program (AHP), including funding for seniors and persons with disabilities. Economic stimulus was the priority for this funding. AMHC takes advantage of the SHRRP funding and undertakes several major capital improvement projects.
In 2010, AMHC begins construction of Hubbard Station, a state of the art 84 unit high-rise building in south Ajax. This building is heated and cooled by geothermal technology. Electricity is being produced by a solar voltaic array. With the addition of Hubbard Station, AMHC now manages a total of 574 residential units.
In 2014, AMHC takes advantage of energy savings incentives through Veridian Corporation and undertakes a major lighting retrofit at three of its locations converting over 300 florescent tubes to LED fixtures.  This change translates into energy savings over the previous lighting of just over 90%.
In 2015, AMHC launched its highly successful website to communicate with both residents and the general public. Vacancy and other important information is constantly updated. Residents are able to submit work orders online.
In 2016, pre-authorized rent payment service is offered to residents at no cost. A pilot "No Smoking Policy" was implemented at the Hubbard Station community.
In 2017, additional LED outdoor street lighting has been installed at the River Breeze and Ashley Manor communities. In the summer of 2017, AMHC launched an on-line rent payment service through all major Financial Institutions at no cost to residents.  Smoke-free Building Policies have been implemented at Ashley Manor,  Westwood Manor, and Post Hill Apartments.
2018 was a busy year with major balcony refurbishments completed at Ashley Manor and Post Hill Apartments.  Outdoor LED bulb improvements were made making AMHC more efficient. Many sites received reflective curb painting to enhance safety and improve curb appearance.  Security was improved at Monarch Mews and RiverBreeze with the installation of security cameras at various locations around each site.
Significant capital repairs and replacements were the highlights of 2019 at AMHC. Balcony refurbishment continued at Post Hill Apartments.  Post Hill also received two rooftop air make-up units.  Ashley Manor's resident common room received a refresh.  AMHC made security improvements with the installation of additional security cameras in the River Breeze community.    All townhouses at River Breeze also received new high efficiency water heaters and heating units.  
In 2020, the COVID-19 Pandemic caused a major shift in the way AMHC conducted business.  A site disinfection regimen commenced and supply issues began to impact repair timelines.  Throughout 2020 and 2021, AMHC staff continued to provide service and remain functioning as an essential service to our residents.  
In May of 2023, Ajax Municipal Housing Corporation changed its name to Ashley Manor Housing Corporation.